Michael Houlihan MNCH (Reg.) MNCP

Do you need to change something about your life. Perhaps you want to focus on losing weight. Get in touch if you particularly want to move on from feeling anxious. Do you need to make better presentations or just feel more confident speaking in public? Do you need help with stage fright? Do you feel nervous, embarrassed, self-conscious or panic at the thought of public speaking? I use Hypnotherapy, NLP Techniques and Cognitive Behavioural Techniques to help you to change your life for good.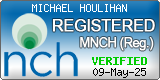 Go for your new life TODAY and call NOW for an appointment 07764 837176 in Ealing W5. To send me an email, please go to my Contact page.